On 17th October 2021, we hosted a tour of residential wildlife ponds in Ham. We chose Ham Pond as a meeting point, and Bill Millard from Friends of Ham Pond gave a short talk about this iconic feature on Ham Common. 24 attendees then visited six wildlife ponds in four residential gardens. One was build 18 months ago in a Belfast sink rescued from a skip, another set in concrete more than 20 year ago. We saw ponds made with liner, preformed ones and even one made from an old baby bath. Their owners shared lessons learnt, changes made and wildlife observed.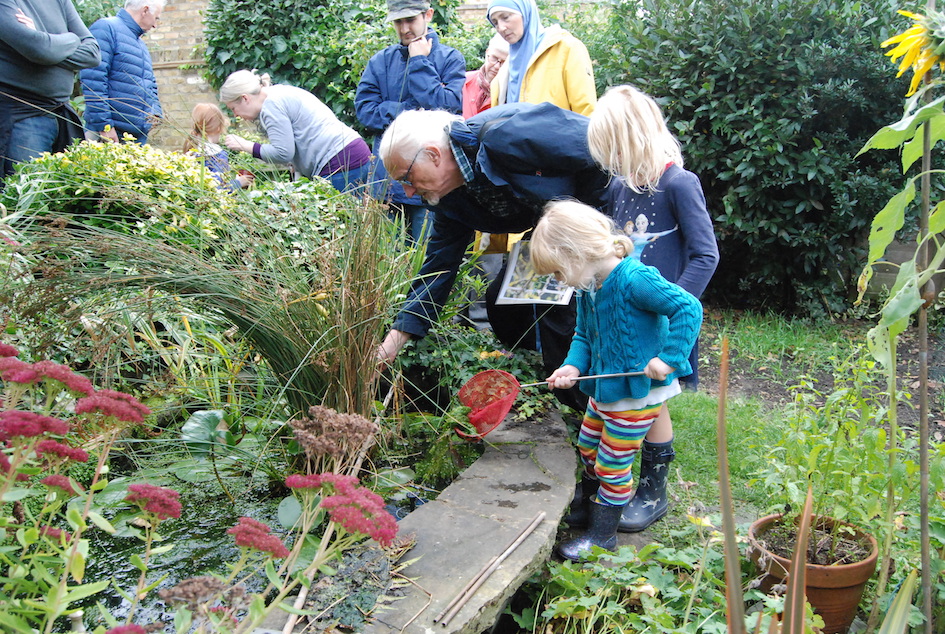 Wildlife ponds are educational and fun for children - and adults, too.
Useful resources for building your own pond:
How to build a wildlife pond - froglife. Download pdf.
Urban tails. A guide to amphibians and reptiles in urban areas. by froglife. Download pdf.
How to make the ultimate wildlife pond. 3 part video series on by Joel Ashton. Part 1. Part 2. Part 3.
How to make a wildlife barrel pond. YouTube video by Joel Ashton.
How to create a wildlife pond: plan, dig, and enjoy a natural pond in your own back garden (RHS guide book) by Kate Bradbury.
The Pond Book. Freshwater Habitats Trust.
Sources of plants: your neighbours, facebook marketplace, or the aquatic section in Squire's Twickenham.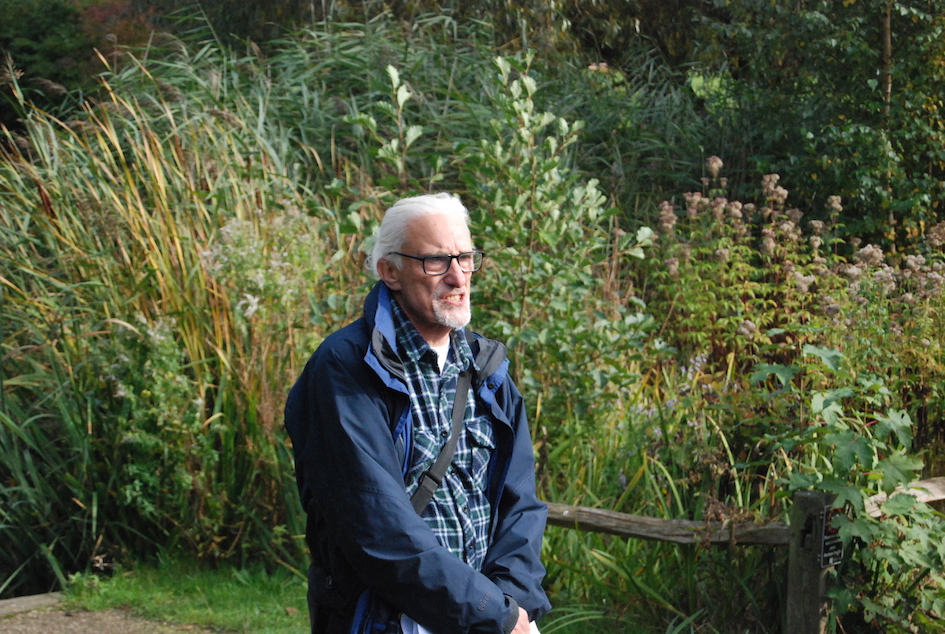 Bill Millard at Ham Pond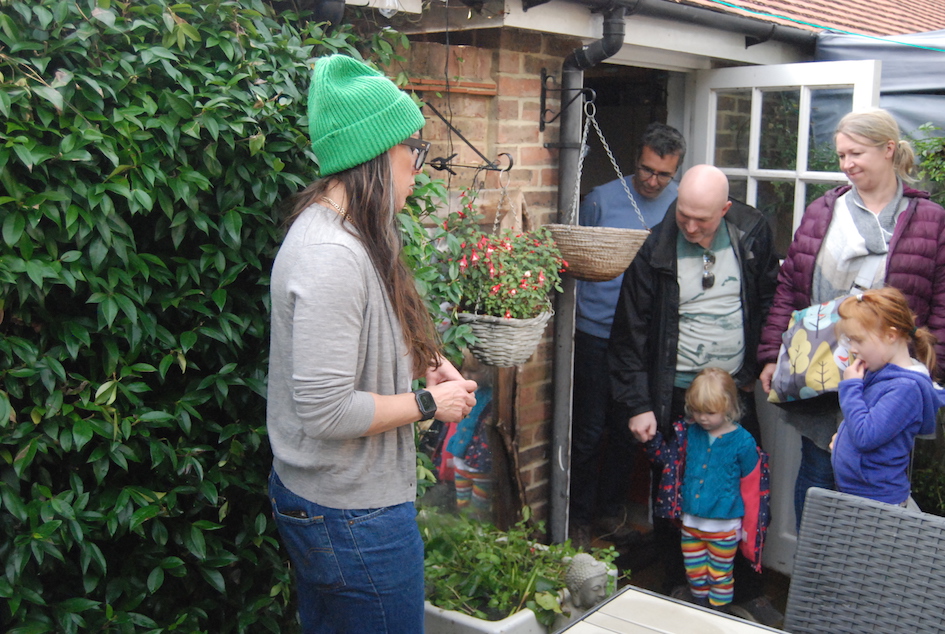 Every garden can host a sink turned wildlife pond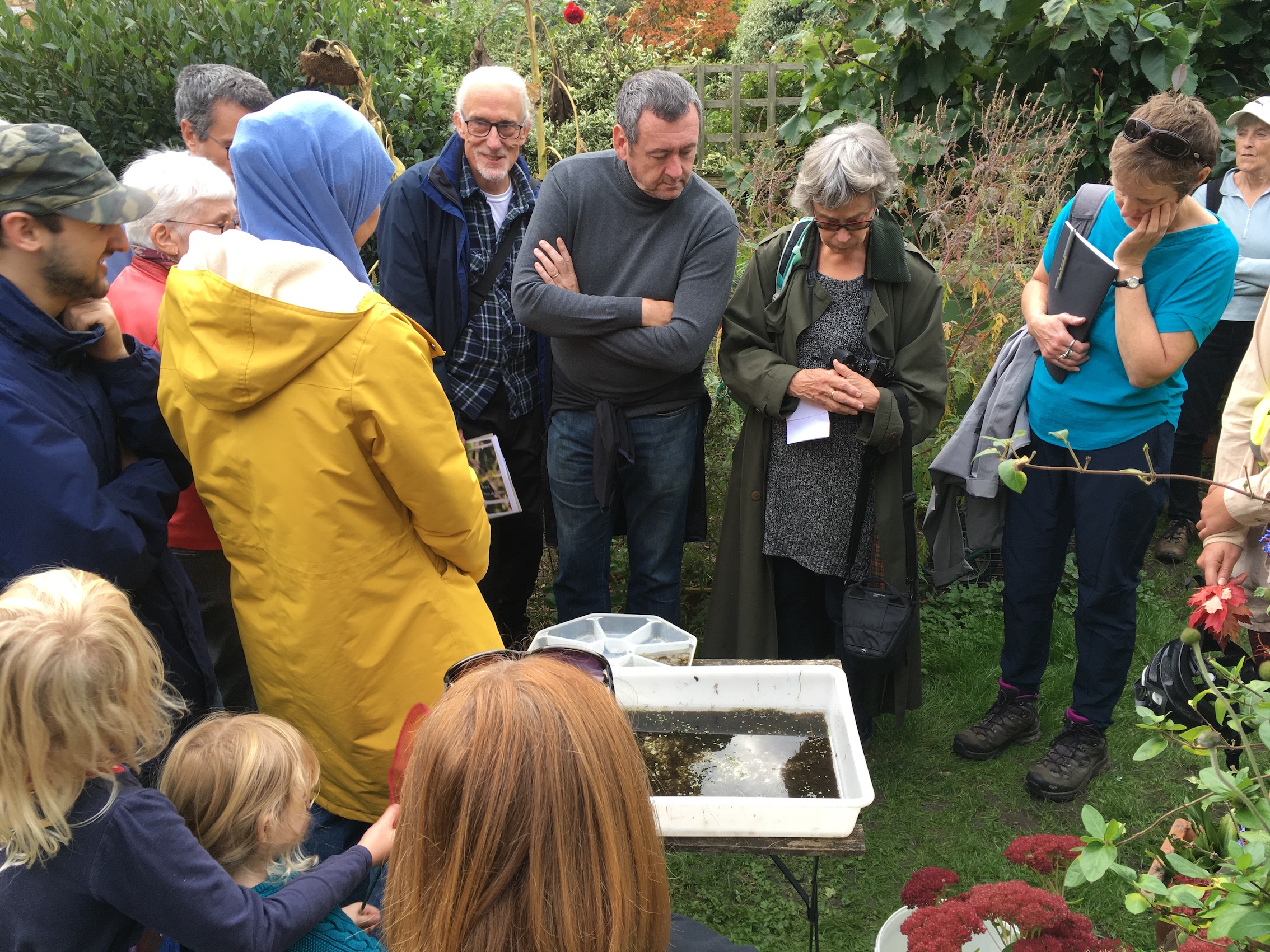 Admiring aquatic wildlife
What participants said:
"I got a real sense of proportion, which is not available on the internet. When I look online, I feel overwhelmed. Seeing these ponds in my neighbourhood makes building my own seem much more achievable."
"Thank you so much for running this event. It was great to take a tour of such a diverse range of local ponds and hear from their owners. I certainly feel that building a pond is achievable now that I've seen others do it. I understood the concept of wildlife corridors regards pollinators, but didn't really realise that it was so important to have a network of ponds as well."
"I really enjoyed the ponds and water harvesting walk yesterday. It was particularly interesting to see how different residents had created ponds of various sizes and using a variety of techniques and materials according to the space available, sun/shade, water supply etc. This helped me with ideas about how I could make a pond in my own tiny garden."